First off, been meaning to post about this for a while.... Toshokan Sensou (Library War) ... how awesome is that???

In the year 2019, the explosion of information and misinformation became a direct threat to society. In a daring decision, it was decided to create a new government agency dedicated solely to information management. Now some thirty years later (year 2052), the government still monitors and controls information, suppressing anything they find undesirable, but standing against their abuses of power are the libraries . . . where the librarians carry guns.

It's really a shoujo series at heart despite the strong military ties. Book-loving people, a strong undercurrent of romance, and a kick-ass heroine.... She reminds me a bit of Ouran High School Host Club's female lead, Haruhi, actually. Strong-minded, opinionated, more determination than skill or grace.

Did I mention it was about libraries?? TOTAL WIN.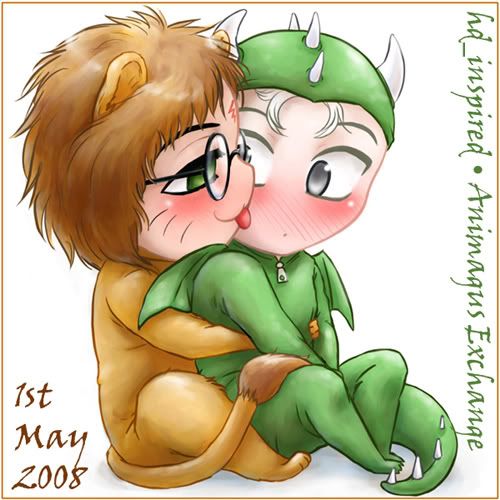 Art by
red_rahl




Thirdly, if you haven't looked at trailers and vids for the upcoming Twilight movie, boy are you in for a treat. If you crave more info, there's quite a few exclusive videos and interviews over at the MTV website and other places. (MTV updates with new content every Tuesday.) Stephenie Meyer's website also has a few tidbits.

As for me... I sort of started a sequel to my Aang/Zuko preslash fic for Avatar. I'm also committing myself to finishing up an H/D inspired-by-a-fairytale fic... Prunella. Which also begs for being told from the flipside in a new fic. In Prunella, Harry's a squib, Neville's the boy who lived, and Draco is the son who has a yearning for a kiss. And that's all very nice and traditional (except where I tweak the tasks H/D-style). But... I also want to do Prune-face... a story where Draco Malfoy needs an attitude change and Harry is the son of the witch who will teach him a lesson.

In conclusion, I post this Avatar joke, stolen from
jupiter_star's icon (and was probably a line from the show??)...

Iroh: If at first you don't make tea, chai, chai again.